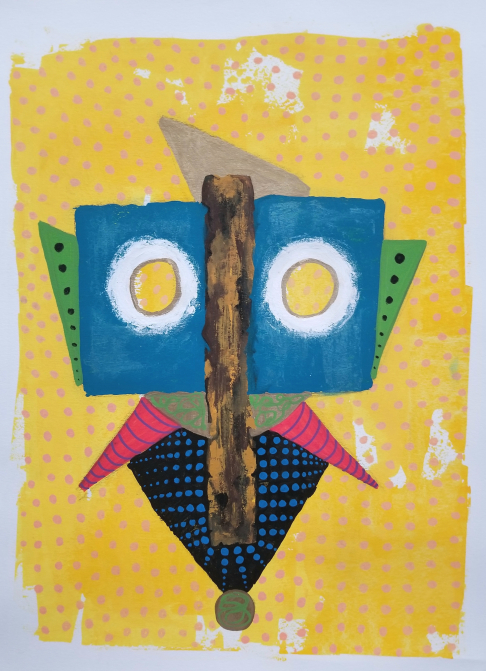 Meetings are a large component of public health, and the space where many of my artistic concepts emerged. My series, "Meeting Notes" began in meetings where I found myself listening and sketching. After a few years of meetings, I amassed over 300 unique drawings. The sketches, drawn somewhat subconsciously, resembled masks. I examined the concept of masks closer and in the process started to create large scale versions of the sketches. I primarily use painting and collage to recreate the sketches from my meetings. Through this process a revelation emerged; masks were traditionally used to conceal an identity, the mask can also be used to help myself and others communicate by illuminating and amplifying the unseen parts of who we are. The mask is a map of our individual identity; each region highlighting a unique part of our persona through its design. The nature of the mask is rooted in and inspired by the tradition of our ancestors. It is a retrospective that helps us explore our beginnings in order to understand where and who we are now.
Paper, Acrylic , and Oil Pen
18" x 24"
Shipping cost: $20.00

I'm a native of Chattanooga, Tennessee who has lived and worked in New Orleans for the past six years. Before coming to New Orleans, I graduated from Morehouse College with a Bachelors of Science in Biology with a concentration in Public Health and African-American Studies. I've always found art as a tool for navigating life throughout my work and academic career. My artistic voice began in childhood, however my active art voice began when I started painting to cope with the stress of school. I began my artistic practice as a landscape painter and over the years I've transitioned into a variety of subjects that investigate the human condition.
I'm is a self-taught artist who favors the use of palette knives, oil and acrylic paints, and collage materials. In 2018 I was featured as a solo artist during From Africa to Appalachia Foundation's 30th Anniversary show titled, "Ancestors". My mixed media piece, "Unresolved Grief" was featured in Harvard's Advanced Leadership Initiative as a part of the organization's efforts to increase emotional awareness of mental health issues. I recently participated in Young Contemporary Collectors juried exhibition in Memphis, TN. Coupled with my time as a health educator,  I've led several art classes that focus on helping students find their own creative voice through journal and mask making.
Throughout my artistic career I've has been influenced by artist such as Sammie Nicely, Jean Michel Basquiat, Benny Andrews and Bill Sienkiwicz along with writers such as James Baldwin and Ralph Ellison. From this point of inspiration, I've created works to reflect identity and history, while sparking ideas in the minds of viewers.
meet the artists
We are a community of New Orleans visual artists. We are painters, sculptors, photographers & illustrators.
We are craftsmen and metal workers, printmakers and textile artists.
We make and create original & one of a kind artworks handcrafted right here in New Orleans.
Where Y'Art is a tool to discover, shop and experience the best of
New Orleans art online and in person.
CREATORS OF ART
Where Y'Art is a curated community of New Orleans artists, craftsmen and designers seeking to connect with buyers and each other. At Where Y'Art, you'll have more sales opportunities and access to commercial opportunities to grow your creative business.
Apply now, or email us for more information: hello@whereyart.net
LOVERS OF ART
Where Y'Art curates an online gallery where you can meet over 100 New Orleans artists — from painters to sculptors, craftsmen and jewelry designers — discover their passions and learn their stories. It's a 24-hour meeting place where the artist is always present and the wall space knows no limits.
If you're in New Orleans, Louisiana, pay us a visit at the Where Y'Art Gallery, 1901 Royal Street 70116 in the historic Faubourg Marigny neighborhood. Or call +1 504 325-5672
Sign up here for updates: