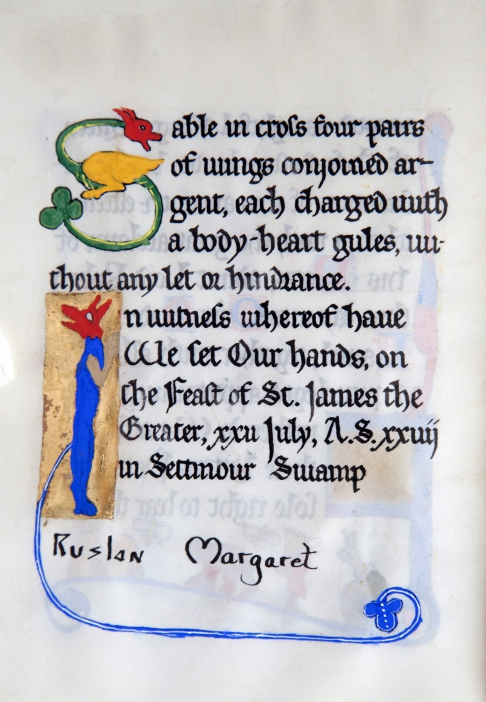 This text of an award is spread across four pages. Each page is decorated with oversized initials incorporating fanciful animals whose tails grow into equally fanciful vines. The bottom margins show humans, animals, and hybrid creatures engaged in various tasks relating to food and drink: crushing grapes, hunting game for the kitchen, and harvesting barley and honey for brewing These are pages 3-6 of a book. The first is a right-hand page, facing the "Decorated Initial" described elsewhere. The next two pages face each other, while the last is a left-hand page facing the "Coat of Arms display". For a description of the entire book, see "Frontspiece". Note: This customized piece is not for sale; the quoted price is for a single page of text with similar word-count and decoration, using the same materials. Shipping included.
Ink, egg tempera, gesso, and gold leaf on calfskin vellum
6" x 8" each page
Shipping cost: $0.00

Calligraphy is, for me, the art form that best engages both sides of my dual identity, scholar/writer and visual artist. Calligraphic work marries words and images to convey a message that neither could alone. My use of letter-forms and decorative elements from medieval manuscripts allows me to combine scholarly rigor with artistic imagination and expression. My work is heavily influenced by many years of active participation in the Society for Creative Anachronism, where I found both an outlet for my developing skills and a community of like-minded scholar-artists. Today, my work is nurtured by New Orleans' respect for a tradition in hand-made objects, and by the love of bright colors that infuses not only its architecture, but its language and storytelling as well.
Sondra Venable is a New Orleans artist living and working in the Uptown neighborhood.
UPTOWN
meet the artists
We are a community of New Orleans visual artists. We are painters, sculptors, photographers & illustrators.
We are craftsmen and metal workers, printmakers and textile artists.
We make and create original & one of a kind artworks handcrafted right here in New Orleans.
Where Y'Art is a tool to discover, shop and experience the best of
New Orleans art online.
ART CONSULTING
Where Y'Art Works is an art consulting company and New Orleans artist collective that works with industry professionals to infuse art into the vision of your project. With our extensive network, technology and resources, Where Y'Art Works is a single point of contact for all of your art needs, delivered on time and in budget.
CREATORS OF ART
Where Y'Art is a curated community of New Orleans artists, craftsmen and designers seeking to connect with buyers and each other. At Where Y'Art, you'll have more sales opportunities and access to commercial opportunities to grow your creative business.
Apply now, or email us for more information: hello@whereyart.net
LOVERS OF ART
Where Y'Art curates an online gallery where you can meet over 100 New Orleans artists — from painters to sculptors, craftsmen and jewelry designers — discover their passions and learn their stories. It's a 24-hour meeting place where the artist is always present and the wall space knows no limits.
If you're in New Orleans, Louisiana, pay us a visit at the Where Y'Art Gallery, 1901 Royal Street 70116 in the historic Faubourg Marigny neighborhood or call 504 325-5672
Sign up here for updates: