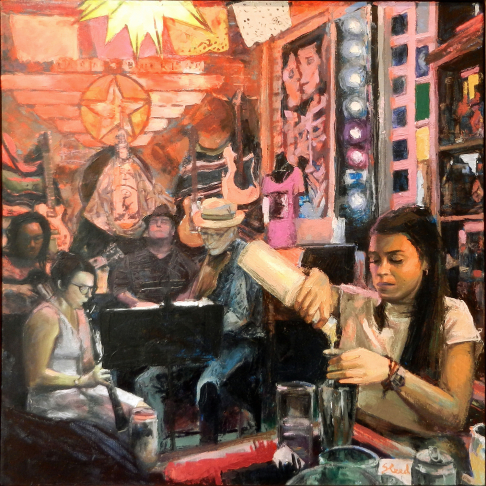 Midiendo / Measuring
2018
'Midiendo / Measuring' takes place at Casa Borrega, one of my favorite food and music venues in New Orleans. The well-worn gumbo metaphor of New Orleans is often discussed in reference to the African and European blend of culture. I think that it is also important to celebrate and represent Latino culture within the city. The title of the painting is a nod to multiculturalism as well as a playful string connecting the bartender and musicians. All workers in the image are in the act of measuring out entertainment - whether by pouring libations or the reading of musical measures. ----- from the 'Crescent City Instantiate' series: *Instantiate (v): 1. represent as or by an instance. 2. (of a universal or abstract concept) have an instance; be represented by an actual example. Recent oil paintings by New Orleans artist Stephanie Reed recreate moments from her lived experience with a loving kindness and even-handed fidelity to form. Reed transcribes light, color and shape to canvas in a practice of "being with" scenes she has witnessed/captured that range from quiet solitude to boisterous festivity. In this meditative dive, time slows and intimate slices of specific worlds unfold, invoked by visceral layers of brush and palette knife strokes. The paintings bear the accumulative marks of the artist's patient and persistent gaze doggedly seeking form and memory. Reed's approach to imagery is sincere but not literal, and the paintings resist reduction to the merely illustrative and mutate upon closer inspection, indulging in painterly gestures and layered dynamic abstractions.
Oil painting with wood frame.
30.5x30.5" (framed)
Shipping cost: $50.00

I love life in New Orleans. I am an accordionist and painter that daylights as an application developer at a not-for-profit.
Stephanie Reed is a New Orleans artist living and working in the 7th Ward.
SEVENTH WARD
meet the artists
We are a community of New Orleans visual artists. We are painters, sculptors, fashion & jewelry designers.
We are craftsman and metal workers, illustrators and printmakers.
We make and create original & one of a kind artworks handcrafted right here in New Orleans.
Where Y'Art is a tool to discover, shop and experience the best of
New Orleans art online and in person.
CREATORS OF ART
Where Y'Art is a curated community of New Orleans artists, craftsmen and designers seeking to connect with buyers and each other. At Where Y'Art, you'll have more sales opportunities and access to commercial opportunities to grow your creative business.
Email us for more information: hello@whereyart.net
LOVERS OF ART
Where Y'Art curates an online gallery where you can meet over 100 New Orleans artists — from painters to sculptors, craftsmen and jewelry designers — discover their passions and learn their stories. It's a 24-hour meeting place where the artist is always present and the wall space knows no limits.
If you're in New Orleans, pay us a visit, 1901 Royal Street in the historic Faubourg Marigny neighborhood.
Sign up here for updates: