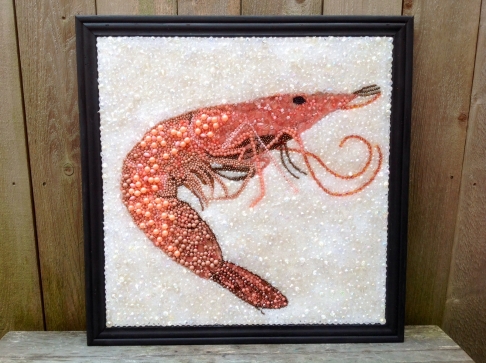 Katrina took a devastating toll on the local sea harvests, including shrimp, crab, and especially oysters. It was estimated that 4,000 families in the ravaged parishes made their living from commercial fishing. Farmers and families pulled together to salvage what they could from the Gulf and support one another through not only this travesty but then the later BP Oil spill. I was taken with their incredible sense of solidarity and community; with shrimp, crabs and oysters as the ties that bound them. Their struggles and stories inspired me to present the immortalized Gulf Shrimp as an important symbol of the strength of our communities and recovery in post Katrina New Orleans.
Acrylic Painting entirely encrusted in recycled Mardi Gras beads. This piece is self-framed with an affixed French cleat and is ready to hang.
25.5" x 25.5"
Shipping cost: $140.00

To most people, Mardi Gras beads are only important during the season and quickly lose their luster once the parades have stopped rolling. Not for me. I love finding the unique strands from the 60s and 70s that other people call "gutter beads". I crave the unusually shaped and colored ones, and admire the way the newer beads glitter and shine in the sunlight. I stand on the sidewalk side for every parade throughout the season, gathering materials to make my art in hopes of collecting a year's worth of goodies until the next Mardi Gras rolls around.
Using culturally iconic imagery representative of New Orleans, because the material lends itself so, and borrowing the ideals of Neo-Impressionistic Pointillism, I hope to elevate what may be considered kitsch to a level of fine art. The resulting play of light and color attempts to recall the ideals of historically significant fine art pieces while adding a new dimension of glitter and shine through the use of metallic, plastic, and luminescent beads.
In preparation for the formal construction of each piece I first paint my imagery essentially creating a fully realized template to follow. The beads are then meticulously sorted by size, shade, and shape, and cut apart to individual pieces creating a detailed and varied palette; much like a painter would prepare hues for painting. I then bead the work by gluing the beads directly onto the canvas, encrusting it entirely in texture, light, and color. The illusion of three-dimensional space is often created through the use of perspective and shading, but also the variety of size of the beads I use creates actual dimension adding an element of bas-relief. The finished works are stunning to regard both from a distance and upon close inspection of the highly detailed craftsmanship.
Tama Distler is a New Orleans artist living and working in the Garden District neighborhood.
GARDEN DISTRICT
Where Y'Art is a tool to discover, shop and experience the best of
New Orleans art online and in person.
CREATORS OF ART
Where Y'Art is a curated community of New Orleans artists, craftsmen and designers seeking to connect with buyers and each other. At Where Y'Art, you'll have more sales opportunities and access to commercial opportunities to grow your creative business.
Email us for more information: hello@whereyart.net
LOVERS OF ART
Where Y'Art curates an online gallery where you can meet over 100 New Orleans artists — from painters to sculptors, craftsmen and jewelry designers — discover their passions and learn their stories. It's a 24-hour meeting place where the artist is always present and the wall space knows no limits.
If you're in New Orleans, pay us a visit, 1901 Royal Street in the historic Faubourg Marigny neighborhood.
Sign up here for updates: