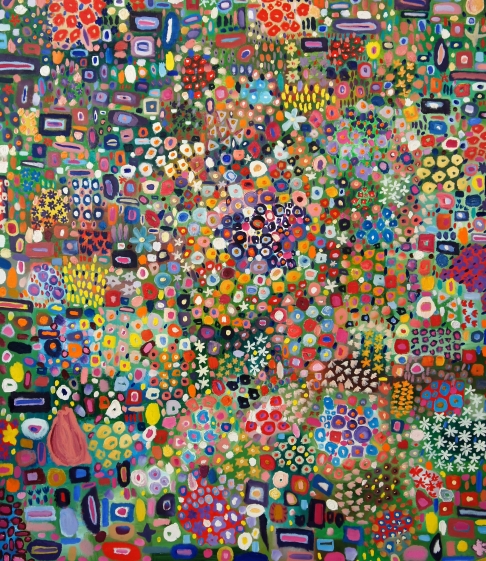 WATER GARDEN is my adoration for beauty. Like looking into the spirit of the Water Lilies by Monet. Reflecting the inspiration of a Kiss by Klimt. It is the intuition of flowers put into childish representational marks, dabs and patterns of pigments that dance with vibrant radiance on the canvas. The flowers pop and explode like fireworks. The rhythms and patterns of colors sooth your soul like a lovers whisper or a mothers hush. The celestial tones of nature sway in the winds melody and breathes back onto you. To capture the exquisiteness of flowers is not to replicate the direct representation of a tulip or a rose. It is like being hypnotized. It is just a visual suggestion. Yet it is felt with emotions and memories. Pacifying like a murmur to your depths. It makes you feel love, grace and passion through color. It makes you wonder while giving you an answer you already knew.
Oil on canvas
58 x 50 (4 ft 10 inch by 4 ft 2)
Shipping cost: $1,200.00

I am a painter, draftsman, graphic artist, photographer and poet. My work is mainly associated with Abstract expressionism, Symbolism and Pop Art. I strive to merge non-objective, non-narrative art with narrative and objective abstraction.

I was born in Kansas City, MO. I earned my BFA in Studio Art/ Oil Painting from Central Missouri State University in 2002, Graduating in Paris, France, on a Museum Study Tour. In 2010 I secured my second BA in Art Education from the University of Missouri - Kansas City. After finishing school I taught Secondary Art Education for five years in the public education system. In my early thirties I was introduced to the city of New Orleans and fell deeply in love with the town. In 2015, my wife and I visited the city for our first wedding anniversary and I became so inspired by the deep rooted culture, celebration for life and the appreciation for the arts that the city had to offer. Because of that adoration we moved from Kansas City to New Orleans in 2016.

I work in a myriad of media; favoring painting, poetry, drawing, collage, digital art and photography. My process involves creating all that I experience, feel and contemplate delineated onto paper, canvas or lighted screens. I'm an avid art and art history lover, visiting many museums and galleries in both America and in Europe. These influences transcend throughout my body of work. I strive to initiate a dialogue with the viewer and their cultural context through an artistic exploration of how people see things around them. My work ranges from realistic portraits to abstract symbolism. My primary subject is the female form and flowers that are marked by eroticism. In addition to my figurative works, which include allegories and portraits, I also enjoy painting abstract landscapes.
YOU MAY ALSO LIKE
meet the artists
We are a community of New Orleans visual artists. We are painters, sculptors, fashion & jewelry designers.
We are craftsman and metal workers, illustrators and printmakers.
We make and create original & one of a kind artworks handcrafted right here in New Orleans.
Where Y'Art is a tool to discover, shop and experience the best of
New Orleans art online and in person.
CREATORS OF ART
Where Y'Art is a curated community of New Orleans artists, craftsmen and designers seeking to connect with buyers and each other. At Where Y'Art, you'll have more sales opportunities and access to commercial opportunities to grow your creative business.
Email us for more information: hello@whereyart.net
LOVERS OF ART
Where Y'Art curates an online gallery where you can meet over 100 New Orleans artists — from painters to sculptors, craftsmen and jewelry designers — discover their passions and learn their stories. It's a 24-hour meeting place where the artist is always present and the wall space knows no limits.
If you're in New Orleans, pay us a visit, 1901 Royal Street in the historic Faubourg Marigny neighborhood.
Sign up here for updates: