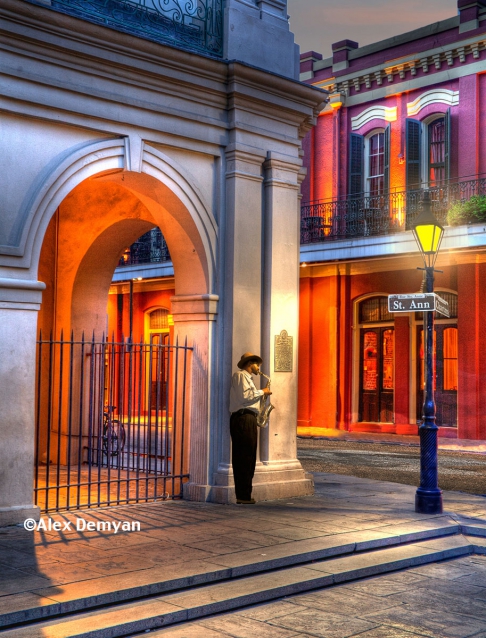 A rare, serene moment at the busiest corner in the French Quarter -- St. Ann Street at Jackson Square.
I custom print my images on an Epson 3880 inkjet printer using Red River Ultrapro Satin Fine Art paper.
Limited edition of 1000, signed and numbered.
16"x20"
Shipping cost: $10.00

I am a full-time freelance photographer specializing in digital photography in New Orleans.

My career can be divided into 2 distinct chapters. During my editorial phase I had thousands of images published worldwide and was the featured photographer of local publications such as "New Orleans Magazine," " Where Magazine" and "Louisiana Life Magazine" .

The focus of my career as a strictly editorial photographer was changed nearly overnight by two great tectonic shifts - the digital camera and Hurricane Katrina.

The decline in New Orleans tourism and conventions after Katrina collapsed the demand for both stock and editorial services.

Digital Photography likewise put into motion market forces that threatened the careers of many editorial photographers, but also bore the seeds of my rebirth as a Fine Art Photographer.

Today I produce photographs destined more for the frame and less the printed page. Software and an imagination unbounded by the strict limits of the editorial world have allowed me to take photography to a new dimension that is still believable and true to my roots as a traditional photographer.

Alex Demyan is a New Orleans artist living and working in Kenner.
KENNER
YOU MAY ALSO LIKE
meet the artists
We are a community of New Orleans visual artists. We are painters, sculptors, fashion & jewelry designers.
We are craftsman and metal workers, illustrators and printmakers.
We make and create original & one of a kind artworks handcrafted right here in New Orleans.
Where Y'Art is a community of lovers and creators of New Orleans art.
CREATORS OF ART
Where Y'Art is a curated community of New Orleans artists, craftsmen and designers seeking to connect with buyers and each other. At Where Y'Art, you'll have more sales opportunities and access to entrepreneurial resources to grow your creative business.
Email us for more information: info@whereyart.net
LOVERS OF ART
At Where Y'Art, you will meet the people creating art, discover their passions and learn their stories. You might even buy something. So Discover New Orleans art. Follow New Orleans artists and Shop the art of our community.
We launched recently and are adding features to the site every day. You can discover our artists, view their original works and buy through our marketplace right now. Soon we are adding your ability to create an account, follow your favorite artists and favorite works.
Sign up here for updates: