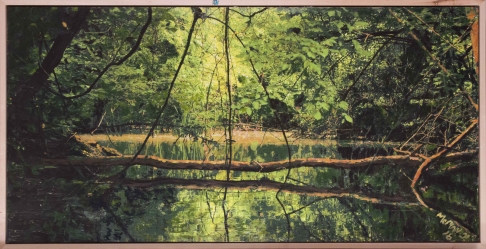 This "slough" is an inlet off of Cane River, near Natchitoches, LA. This mixed media painting is based on a photograph I took from a canoe. The branch in the foreground marked the end of our journey up the slough, but also acted as a barricade to the area beyond, as if it were a living sculpture in a museum, to be appreciated from afar but not touched.
Giclee and Acrylic on birch panel, in maple floater frame
24"x 48"
Shipping cost: $200.00

I began developing as an artist in Lafayette, LA, my hometown. After a transformative summer at Interlochen Arts Camp, I went on to study at the Lafayette Parish High School Arts Academy under Kathy Reed. I then studied Visual Art and Urban Studies at Brown University. After graduating in May 2013, I moved to New Orleans to practice art and to work as a graphic & architectural designer and planner. I've shown my work in galleries in Lafayette, LA, Shreveport, LA, Providence, RI, and New Orleans.

Connor McManus is a New Orleans artist living and working in the Uptown neighborhood.
UPTOWN
YOU MAY ALSO LIKE
meet the artists
We are a community of New Orleans visual artists. We are painters, sculptors, fashion & jewelry designers.
We are craftsman and metal workers, illustrators and printmakers.
We make and create original & one of a kind artworks handcrafted right here in New Orleans.
Where Y'Art is a community of lovers and creators of New Orleans art.
CREATORS OF ART
Where Y'Art is a curated community of New Orleans artists, craftsmen and designers seeking to connect with buyers and each other. At Where Y'Art, you'll have more sales opportunities and access to entrepreneurial resources to grow your creative business.
Email us for more information: info@whereyart.net
LOVERS OF ART
At Where Y'Art, you will meet the people creating art, discover their passions and learn their stories. You might even buy something. So Discover New Orleans art. Follow New Orleans artists and Shop the art of our community.
We launched recently and are adding features to the site every day. You can discover our artists, view their original works and buy through our marketplace right now. Soon we are adding your ability to create an account, follow your favorite artists and favorite works.
Sign up here for updates: