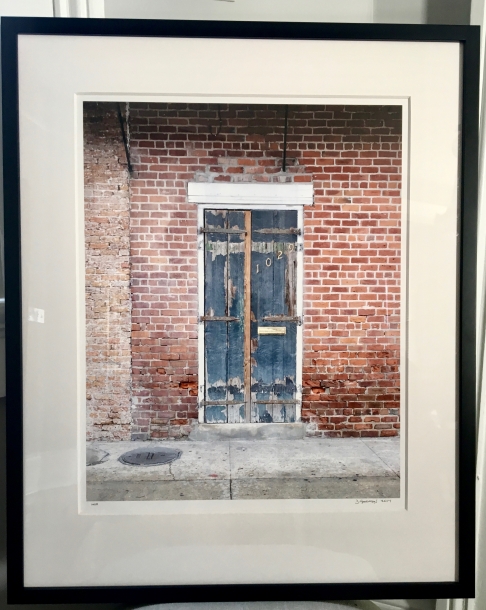 Through photography, I have been exploring one's personal relationship to all things considers "home". This happens to manifest itself through images of mailboxes. Each mailbox box was photographed in the French Quarter of New Orleans.
photography
16" x 24"
Shipping cost: $20.00

I was born in Shreveport, LA and received my Bachelor of Fine Arts (2005) from Louisiana State University. Thereafter, I was granted a Professional Printers Certificate (2006) from the Tamarind Institute of Lithography in Albuquerque, NM and later went on to earn my Master of Fine Arts (2010) from the San Francisco Art Institute. My use of layer and color arrangement, technique exploration, and constant reformatting of my work allows me to stay engaged in a project while creating an image that is completely satisfying. These essentials along with other conventional elements come together as the leading vehicle for translating my inner vision and relating it to the viewer.

While my abstract imagery has become synonymous with the mediums of printmaking and painting, my work stems from extensive exploration of various techniques from these mediums.


Jono Goodman is a New Orleans artist living and working in the Freret area.
BROADMOOR
YOU MAY ALSO LIKE
meet the artists
We are a community of New Orleans visual artists. We are painters, sculptors, fashion & jewelry designers.
We are craftsman and metal workers, illustrators and printmakers.
We make and create original & one of a kind artworks handcrafted right here in New Orleans.
Where Y'Art is a community of lovers and creators of New Orleans art.
CREATORS OF ART
Where Y'Art is a curated community of New Orleans artists, craftsmen and designers seeking to connect with buyers and each other. At Where Y'Art, you'll have more sales opportunities and access to entrepreneurial resources to grow your creative business.
Email us for more information: info@whereyart.net
LOVERS OF ART
At Where Y'Art, you will meet the people creating art, discover their passions and learn their stories. You might even buy something. So Discover New Orleans art. Follow New Orleans artists and Shop the art of our community.
We launched recently and are adding features to the site every day. You can discover our artists, view their original works and buy through our marketplace right now. Soon we are adding your ability to create an account, follow your favorite artists and favorite works.
Sign up here for updates: