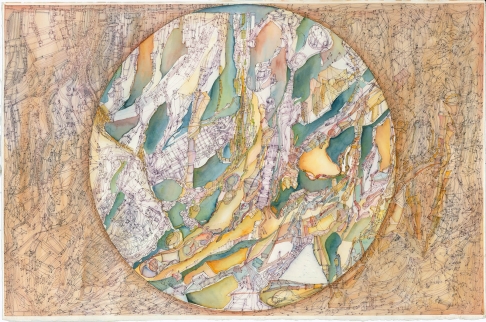 I have been drawing, making and taking things apart since I was very young. Growing up, the most ordinary things seemed spectacular. They still do. I have an overwhelming desire to share and express the immediacy I sense in the extraordinary, similar to the way I did when I was young.

Nurhan Gokturk is an artist and urban designer. Born in Istanbul, Turkey, Nurhan immigrated to New York City at the age of three. Raised in Queens and Brooklyn and educated in the public school system, he went on to receive a Master's Degree from Harvard Graduate School of Design and a Bachelor of Architecture from Pratt Institute. His projects have been featured at the Venice Biennale, Buenos Aires International Biennial of Architecture, Aqua Art Fair (Miami), GLOBAL Design (London), Contemporary Art's Center New Orleans 40th Anniversary Show, Jonathan Ferrara Gallery, Governor's Island Art Center (NYC), the New Institute in Rotterdam, the Onsite Gallery in Toronto and the Inaugural Bywater Biennial. His work has also been exhibited in Barcelona, Berlin, Boston, Detroit, London, Toronto, Vienna, as well as, across France, Germany and the United States. He has been featured in Metropolis Magazine, Gambit's Top 40 under 40, was Interviewed on NPR and awarded the Architizer A+ Award. Nurhan coordinated the first major Habitat for Humanity Buckminster Fuller Design Science Exhibition in Istanbul.

Nurhan is a New Orleans artist living and working in the Bywater neighborhood.
BYWATER/LOWER NINTH WARD
YOU MAY ALSO LIKE
meet the artists
We are a community of New Orleans visual artists. We are painters, sculptors, fashion & jewelry designers.
We are craftsman and metal workers, illustrators and printmakers.
We make and create original & one of a kind artworks handcrafted right here in New Orleans.
Where Y'Art is a community of lovers and creators of New Orleans art.
CREATORS OF ART
Where Y'Art is a curated community of New Orleans artists, craftsmen and designers seeking to connect with buyers and each other. At Where Y'Art, you'll have more sales opportunities and access to entrepreneurial resources to grow your creative business.
Email us for more information: info@whereyart.net
LOVERS OF ART
At Where Y'Art, you will meet the people creating art, discover their passions and learn their stories. You might even buy something. So Discover New Orleans art. Follow New Orleans artists and Shop the art of our community.
We launched recently and are adding features to the site every day. You can discover our artists, view their original works and buy through our marketplace right now. Soon we are adding your ability to create an account, follow your favorite artists and favorite works.
Sign up here for updates: