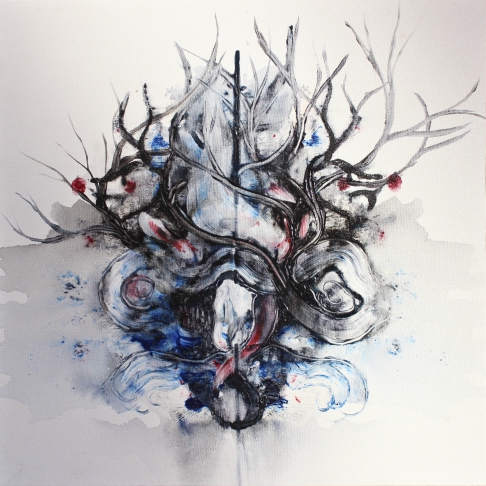 The third piece in a mini-series of Rorschach-esque paintings. Samsara is the wheel of suffering, the rounds of birth and death. It complicates itself and gets messy. It's also the nature of life - it is the force that continually pulls you forward into new challenges and adventures. In the early years of Buddhism many thought that the point was to break the wheel of Samsara and end the rounds of birth and death, desire and disappointment, temporary pleasure and nostalgia. The Mahayana Buddhists out of Tibet refined this notion: Nirvana and Samsara are not two. The darkness and chaos of life is as much an expression of bliss as the lotus. If you become the center of the wheel, not too tight or loose on the axle, no matter where it takes you, you are still.
Acrylic on canvas
24" x 24"
Shipping cost: $40.00

I am a New Orleans-based artist from Lafayette. In 2013, I graduated from Brown University with Honors in Visual Art and Urban Studies. Since then, I have split my time between making art and working at a planning and design firm where I focus on graphic design, architectural design, and community engagement around coastal issues. I've shown my work at Lounge Gallery in Lafayette, Perch, Where Y'art, and Old 77 Hotel and Chandlery in New Orleans, and View Gallery in Mississippi.
My artwork is inspired by the forms repeated throughout nature – the structures of trees, rivers, and plant leaves; the grown networks of cities as seen from above; and the beautiful harmonics found in color, sacred geometry, and music. Much of my work blends these natural inspirations with cultural ones. I draw from the great aesthetic contributions of world religions and philosophies of life. I enjoy gardening, building furniture, admiring architecture, rock climbing, and traveling with my camera. I live with my wife and our three cats in an old craftsman house in the Milan neighborhood of New Orleans.
UPTOWN
meet the artists
We are a community of New Orleans visual artists. We are painters, sculptors, fashion & jewelry designers.
We are craftsman and metal workers, illustrators and printmakers.
We make and create original & one of a kind artworks handcrafted right here in New Orleans.
Where Y'Art is a tool to discover, shop and experience the best of
New Orleans art online and in person.
CREATORS OF ART
Where Y'Art is a curated community of New Orleans artists, craftsmen and designers seeking to connect with buyers and each other. At Where Y'Art, you'll have more sales opportunities and access to commercial opportunities to grow your creative business.
Email us for more information: hello@whereyart.net
LOVERS OF ART
Where Y'Art curates an online gallery where you can meet over 100 New Orleans artists — from painters to sculptors, craftsmen and jewelry designers — discover their passions and learn their stories. It's a 24-hour meeting place where the artist is always present and the wall space knows no limits.
If you're in New Orleans, pay us a visit, 1901 Royal Street in the historic Faubourg Marigny neighborhood.
Sign up here for updates: