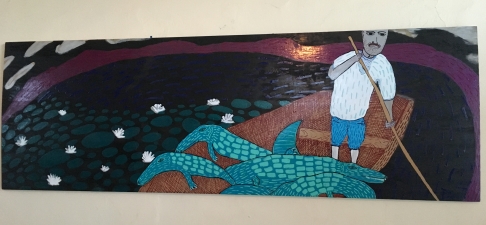 I am fascinated by the swamp - especially at night - and most especially, thinking about the wonderful trappers who scratch out a living now and in the past.
Oil on wood
24" x 60"
Shipping cost: $0.00

I'm a self-taught folk artist. My first painting was made on a whim during a winter break from college - and over the years I have found pleasure and relaxation through painting.
Upon moving to New Orleans I found my artistic soul through art-cars. A chance encounter in 2007 with Marigny artist, Sue Ireland, led me to create my first art-car, turning my little Toyota into "the redhead car". Once every inch of that little car was covered, I moved towards painting on found objects such as old political signs, tables, and pieces of metal. In the years since, I have painted large-scale murals, trucks, and works on wood and canvas.
My favorite thing to do now is paint on canvas and then hand-sew beads and sequins unto the painting to create an interesting texture and depth to my folk-art.
I find inspiration in life in New Orleans, my travels, and my "real job" as a middle school history teacher.
Devin DeWulf is a New Orleans artist living and working in the Bywater neighborhood.
BYWATER
Where Y'Art is a tool to discover, shop and experience the best of
New Orleans art online and in person.
CREATORS OF ART
Where Y'Art is a curated community of New Orleans artists, craftsmen and designers seeking to connect with buyers and each other. At Where Y'Art, you'll have more sales opportunities and access to commercial opportunities to grow your creative business.
Email us for more information: hello@whereyart.net
LOVERS OF ART
Where Y'Art curates an online gallery where you can meet over 100 New Orleans artists — from painters to sculptors, craftsmen and jewelry designers — discover their passions and learn their stories. It's a 24-hour meeting place where the artist is always present and the wall space knows no limits.
If you're in New Orleans, pay us a visit, 1901 Royal Street in the historic Faubourg Marigny neighborhood.
Sign up here for updates: