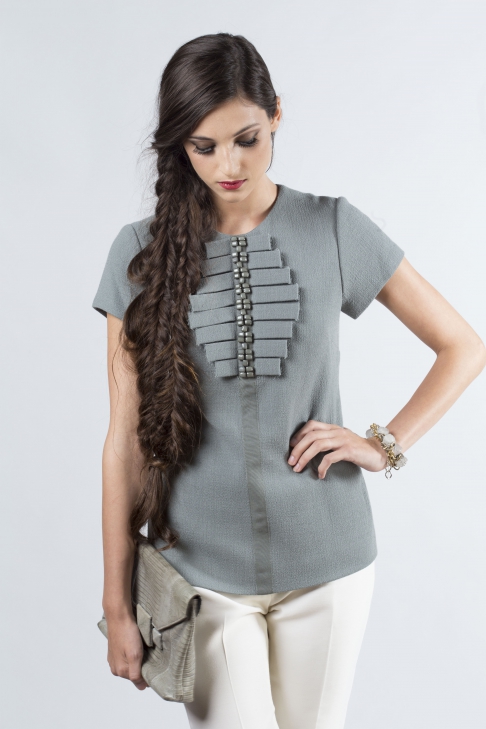 C.Major (nola)
Tailored Tee with Beaded Ruffle Bib
Made to Order
Available in:
Dusty Green (pictured)
Ivory & Black

**custom colors upon request**
Made from Wool Crepe (100% Wool) with Pleated Ruffle, Grosgrain Ribbon & Beading.
Invisible Zipper at Center Back. Fully lined in 100% Silk.
Made in the U.S.A.

Please allow 4-6 weeks for delivery.
**rush delivery upon request**


Available in sizes 2- 12
Shipping cost: $15.00

I have always been enamored with art, especially with fashion design, a love that motivated me to ultimately create my own clothing line. C.Major (nola) comes from my name -- Anne Major Cassidy. Long before developing C.Major (nola), I was designing and creating my own clothing using my mother's old sewing machine at our family home in Kentucky. A lot of my inspiration comes from my mother, who has impeccable taste for clothing and art, and along with my father, has always nurtured my creativity and encouraged me to pursue my passions.

I came to New Orleans, sight unseen, to attend Tulane University and immediately fell in love with the vibrant culture of the city. During my time here, I truly began to think of New Orleans as home. When I graduated in 2004 and left to attend design school at Parsons in New York City, but I knew it was only a matter of time before I'd make my way back.

Developing my own clothing line, in the city I love, has always been a lifelong career goal that I hope will contribute to the continuing revitalization, rebirth, and in some ways, reinvention of New Orleans. Not only are the clothes made in New Orleans, but in many ways the C.Major (nola) collection is inspired by the City itself. New Orleans presents an incredibly cool juxtaposition of old school charm, and sophistication mixed with a really current, hip character and appeal. By and large, the music, art, food, and the architecture tend to be classic without seeming tired, or are often fresh with a nod to the past and tradition. The C.Major (nola) line captures that same sentiment, and embraces that perfect balance of 'old and new' inspired by New Orleans.

C.Major (nola) is a lifestyle brand for women, and a collection that is meant for every day living. It is a clothing line that is smart and demure, while at the same time beautifully made with impact. The collection is designed to spark interest with modern details and sophisticated fabrics, but the silhouettes will maintain a classic and time honored aesthetic intended to be relevant for seasons to come. The clothes are more style driven than trend conscious, but they're also current and fun.

C.Major (nola) debuted it's first collection for Spring + Summer of 2013, with a small capsule collection for Holiday 2012. We continue to offer two seasonal collections a year. Each collection embodies functionality, versatility, individuality, and exclusivity.


Anne Cassidy is a New Orleans artist living and working in the Uptown neighborhood.
UPTOWN
YOU MAY ALSO LIKE
meet the artists
We are a community of New Orleans visual artists. We are painters, sculptors, fashion & jewelry designers.
We are craftsman and metal workers, illustrators and printmakers.
We make and create original & one of a kind artworks handcrafted right here in New Orleans.
Where Y'Art is a community of lovers and creators of New Orleans art.
CREATORS OF ART
Where Y'Art is a curated community of New Orleans artists, craftsmen and designers seeking to connect with buyers and each other. At Where Y'Art, you'll have more sales opportunities and access to entrepreneurial resources to grow your creative business.
Email us for more information: info@whereyart.net
LOVERS OF ART
At Where Y'Art, you will meet the people creating art, discover their passions and learn their stories. You might even buy something. So Discover New Orleans art. Follow New Orleans artists and Shop the art of our community.
We launched recently and are adding features to the site every day. You can discover our artists, view their original works and buy through our marketplace right now. Soon we are adding your ability to create an account, follow your favorite artists and favorite works.
Sign up here for updates: