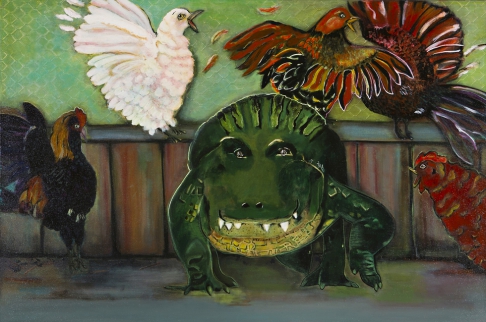 Gator Girl Art
Gator In the Hen House
2014
Gator in the Hen House could be a political statement about corruption in Louisiana government. I love the political satire floats at Mardi Gras. What it really is… is my desire to paint an alligator surrounded by chickens. Each chicken has a specific personality. Most of the painting was driven by color and movement.
Acrylic paint and molding paste on canvas
24" x 36"
Shipping cost: $50.00

I live, work, and thrive in NOLA. I am a mixed media artist drawn to Louisiana subject matter, from alligators to angels. When people see my work, I want them to feel the love and prayers that I have attached to the paintings.

I paint because I see a picture in my mind, triggered by something I see or a song that I hear, and I want to bring it into reality. One of my goals is to keep New Orleans in the forefront of people's vision. I start each painting with prayers for the city, often extending to all sentient beings. I want whoever sees my paintings to feel these prayers. I want my paintings to speak to the viewer's heart.

When I painted "Ascension", I was at mass at St. Stephen's and saw a dove, representing the Holy Spirit, above the crucifix. I thought of a brown pelican, our state bird, ascending from a cross, to represent NOLA rising from the destruction and corruption following Hurricane Katrina. While I was painting the pelican, I thought of crawfish angels taking the pelican skyward. The halo around the pelican's head was made from Mardi Gras beads dried in gel and roughly removed, leaving a crusty, seascape look. The three fish, which could have been 3 of anything, represent the Holy Trinity.

One of my pieces is called "Feathered Friends". It represents a community project involving building and improving parks and community gardens in New Orleans. The painting represents divine guidance and our relationship with living things.

When I was teaching in California, I attended a painting workshop presented by Shiloh McCloud. In the course of the weekend, Shiloh instructed us to write down our vision of the future. I decided at that time to retire from California in three years and move with my family to New Orleans and paint full time.

Nancy Wolfe Kimberly is a New Orleans artist living and working in the East Carrollton neighborhood.

EAST CARROLLTON
YOU MAY ALSO LIKE
meet the artists
We are a community of New Orleans visual artists. We are painters, sculptors, fashion & jewelry designers.
We are craftsman and metal workers, illustrators and printmakers.
We make and create original & one of a kind artworks handcrafted right here in New Orleans.
Where Y'Art is a community of lovers and creators of New Orleans art.
CREATORS OF ART
Where Y'Art is a curated community of New Orleans artists, craftsmen and designers seeking to connect with buyers and each other. At Where Y'Art, you'll have more sales opportunities and access to entrepreneurial resources to grow your creative business.
Email us for more information: info@whereyart.net
LOVERS OF ART
At Where Y'Art, you will meet the people creating art, discover their passions and learn their stories. You might even buy something. So Discover New Orleans art. Follow New Orleans artists and Shop the art of our community.
We launched recently and are adding features to the site every day. You can discover our artists, view their original works and buy through our marketplace right now. Soon we are adding your ability to create an account, follow your favorite artists and favorite works.
Sign up here for updates: