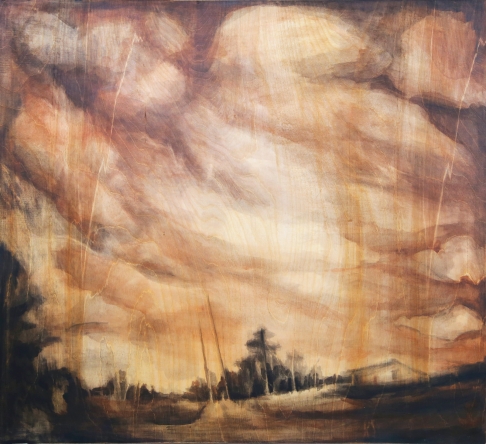 Sarah Nelson Fine Art
The Only Way Out is Through
2015
This is an image from the levee in the Holy Cross neighborhood on the industrial canal. The way that the landscape here changes according to the weather is remarkable. Watching the storm come in over the river and visibly seeing the air quality change as it cools is a phenomenon I have seen nowhere else. While watching the sunset one evening, despite my intention to capture the river, I looked to my left and saw a perfect composition. Looking away from the city and into the depths of the neighborhood, I loved the way the elevation of the levee seemed to warp the horizon line, creating a "fish eye" distortion in the composition.
Mixed media on wood panel
38.5" x 43" (framed)
Shipping cost: $300.00

The ancient Celts described the windswept, Irish moors as "thin places." It was in these places they believed that the distance between the physical and spiritual world became shorter. To stand in a thin place, a person had the ability to touch the edge of the transcendent. These places were not for comfort, but rather for finding meaning through reflection. In my work I try to capture the thin places in my own life.

I am very interested in the abstract and emotive qualities of the sky and how they work in conjuncture with the overall tone of my work. While some subjects lend themselves to artists to paint what they see, the landscape allows me to paint what I am in. This can be both a physical or emotional space, and through the process of painting, my own internal landscape is conveyed.

My subject allows me to feel small in this world, by letting me put myself in the vast spaces that I create. It is only through painting the enormity of what surrounds me, that I feel and reconcile its weight.


Sarah Nelson is a New Orleans artist living and working in the Bywater neighborhood.

BYWATER
YOU MAY ALSO LIKE
meet the artists
We are a community of New Orleans visual artists. We are painters, sculptors, fashion & jewelry designers.
We are craftsman and metal workers, illustrators and printmakers.
We make and create original & one of a kind artworks handcrafted right here in New Orleans.
Where Y'Art is a community of lovers and creators of New Orleans art.
CREATORS OF ART
Where Y'Art is a curated community of New Orleans artists, craftsmen and designers seeking to connect with buyers and each other. At Where Y'Art, you'll have more sales opportunities and access to entrepreneurial resources to grow your creative business.
Email us for more information: info@whereyart.net
LOVERS OF ART
At Where Y'Art, you will meet the people creating art, discover their passions and learn their stories. You might even buy something. So Discover New Orleans art. Follow New Orleans artists and Shop the art of our community.
We launched recently and are adding features to the site every day. You can discover our artists, view their original works and buy through our marketplace right now. Soon we are adding your ability to create an account, follow your favorite artists and favorite works.
Sign up here for updates: