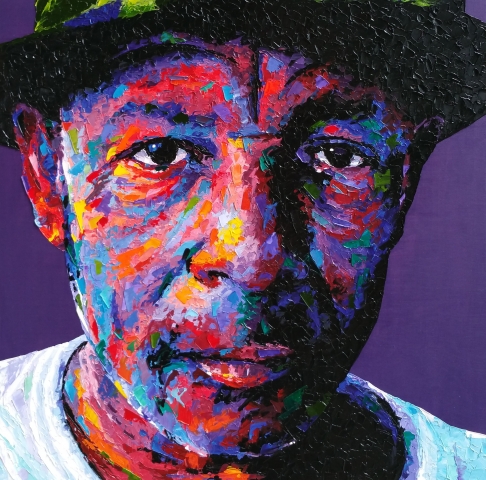 Makes Me Wanna Holler
2016
Put your phone away and talk to someone you don't know. Tuesday morning on Frenchmen Street, there are always some great people with interesting stories to pass along.
Oil on panel with pallet knife
18" x 18"
Shipping cost: $25.00

I am an oil painter, originally from California's Napa Valley. A lifelong doodler of portraits, comics and illustrations, as well as a screen-printer and erstwhile designer, I didn't actually begin smearing paint on stuff until I was knee deep into my 30s. Starting with a jar of cheap brushes and painting mostly portraits of friends, family, derelicts and ne'er-do-wells, I soon traded my brushes for pallet knives and began adding cityscapes, narrative designs and random thought-thinkings into my subject matter.

In 2008, I had my first solo exhibition in Redding California. Over the next 4 years, I enjoyed several successful group and solo shows throughout California. My work was featured in local papers and shiny magazines and I was commissioned for portraits, album covers and t-shirt designs. In 2011, I moved to Portland, Oregon and over the next five years enjoyed many exhibitions in and around one of the greatest cities in the world. Portland was an incredible inspiration and provided the spark for virtually every painting I completed in this prolific, beer-soaked period.

I recently said farewell to Portland and hello to New Orleans. New jokes in new pubs, new faces giving me new smiles and dirty looks, new street corners with new stories. They all find their way into my work. The faces and lives of the folks I've seen and if I'm lucky, gotten to know here in New Orleans, have found (or will find) their way onto my panels. The diversity of the city is inspiring to me, as are the biographies of these folks. Some of their stories I know, and some I make up over the course of scribbling their pictures.

I encourage the viewer to do the same. Create the narrative in your own mind.
YOU MAY ALSO LIKE
meet the artists
We are a community of New Orleans visual artists. We are painters, sculptors, fashion & jewelry designers.
We are craftsman and metal workers, illustrators and printmakers.
We make and create original & one of a kind artworks handcrafted right here in New Orleans.
Where Y'Art is a community of lovers and creators of New Orleans art.
CREATORS OF ART
Where Y'Art is a curated community of New Orleans artists, craftsmen and designers seeking to connect with buyers and each other. At Where Y'Art, you'll have more sales opportunities and access to entrepreneurial resources to grow your creative business.
Email us for more information: info@whereyart.net
LOVERS OF ART
At Where Y'Art, you will meet the people creating art, discover their passions and learn their stories. You might even buy something. So Discover New Orleans art. Follow New Orleans artists and Shop the art of our community.
We launched recently and are adding features to the site every day. You can discover our artists, view their original works and buy through our marketplace right now. Soon we are adding your ability to create an account, follow your favorite artists and favorite works.
Sign up here for updates: