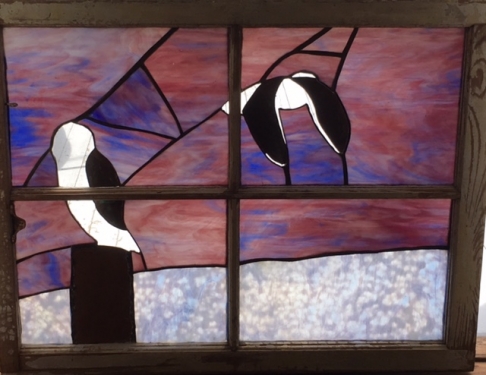 Paraph
Barn Owl - Stained Glass Window
2016
Barn Owl can hunt in total darkness. Unlike most other owls, the Barn Owl has asymmetrical ear openings, allowing for precise triangulation of sound. Barn owl reminds us of the importance of listening at all levels, however mundane or magical, and to discernment in the application of the messages we receive. As a totem, Barn Owl shares clairvoyant and clairaudio abilities. This speaks to seeing past illusion and to locating that which we need through deep listening, drawing resources from what may seem like nothing. Barn Owl is able to create a "neural map" of auditory space. Barn Owl helps pinpoint what is needed, and grant a picture of the unknown with more detail and accuracy than any other animal. Barn Owl is a shapeshifter, silent, rarely seen. She is associated with the moon, and the crone, and with abundant creativity and production. Seeing Barn Owl during the day indicates a message about fear of the unknown and the courage to navigate it. As a monogamous bird and an abundant hunter, Barn Owl symbolizes steady commitment to what we are creating in the world. She is an ally in times when our relationship to productivity is called into question. Barn Owl reminds us not to focus on creativity as a means of being seen but rather as a means of listening.
Stained glass and copper. Copper wind details are three dimensional.
23" x 30"
Shipping cost: $50.00

I was raised in an old farmhouse in Maine, surrounded by plants, tools, animals, community, tumbling rock walls, and a decaying barn full of decades worth of friends' forgotten belongings. Those aesthetics translate well to the decay and growth of New Orleans; my work is at home here in the Deep South.
I run my restoration and design business, 'Paraph,' from my home studio in Uptown New Orleans. My business is dedicated to the rejuvenation of the stained glass trade by using traditional techniques inventively. I am passionate about plant medicine, cooking, gardening, story telling, and social justice. A career in art allows me to live joyfully. Pleasure, brought through inspiration and intellectual challenge, is a priority for me. I strive to share that pleasure with others through my sculpture.
My work is often either narrative or serves as a way to research new subjects. Through treatment of metal, wood, glass, clay and found objects, I explore the aesthetics of decay, vulnerability, and material and textural variation. In all of my work, I strive to blend patience with spontaneous decisions.
Please contact me about preserving wedding flowers (or any plant important to you) in glass, custom orders welcome! See more at caitlinwaugh.com and on instagram @caitlinezellwaugh
7TH WARD
meet the artists
We are a community of New Orleans visual artists. We are painters, sculptors, photographers & illustrators.
We are craftsmen and metal workers, printmakers and textile artists.
We make and create original & one of a kind artworks handcrafted right here in New Orleans.
Where Y'Art is a tool to discover, shop and experience the best of
New Orleans art online.
ART CONSULTING
Where Y'Art Works is an art consulting company and New Orleans artist collective that works with industry professionals to infuse art into the vision of your project. With our extensive network, technology and resources, Where Y'Art Works is a single point of contact for all of your art needs, delivered on time and in budget.
CREATORS OF ART
Where Y'Art is a curated community of New Orleans artists, craftsmen and designers seeking to connect with buyers and each other. At Where Y'Art, you'll have more sales opportunities and access to commercial opportunities to grow your creative business.
Apply now, or email us for more information: hello@whereyart.net
LOVERS OF ART
Where Y'Art curates an online gallery where you can meet over 100 New Orleans artists — from painters to sculptors, craftsmen and jewelry designers — discover their passions and learn their stories. It's a 24-hour meeting place where the artist is always present and the wall space knows no limits.
If you're in New Orleans, Louisiana, pay us a visit at the Where Y'Art Gallery, 1901 Royal Street 70116 in the historic Faubourg Marigny neighborhood or call 504 325-5672
Sign up here for updates: