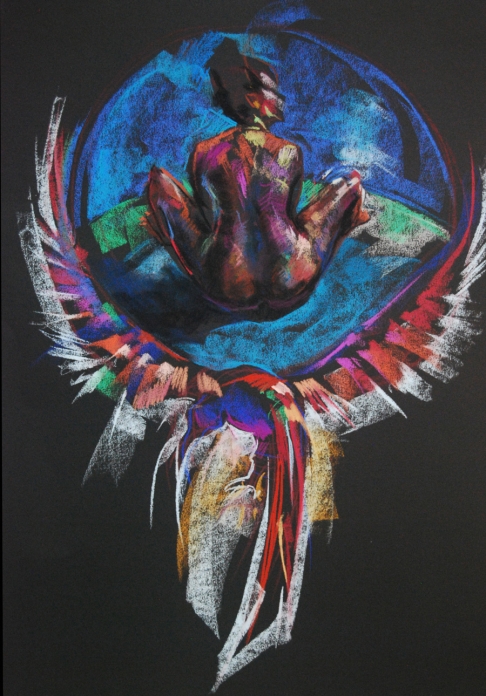 Aiye Titun (A New Earth)
2015
This beautiful pastel drawing is an homage to womanhood, nature and a wish for a new earth where nature and humanity are in balance and in harmony. Unframed. Work with excellent framer and strongly advise framing before shipping. Buyer is responsible for shipping costs, which will be calculated for sale.
Original - Pastel on archival paper
30" x 22"
Shipping cost: $0.00

My primary concern is to create pieces that have a good strong structure. I begin by building basic rhythms throughout my composition and then improvise on those rhythmic patterns, changing them as I go along. Spontaneity is a must. I approach an empty surface in the same way a jazz musician approaches a saxophone. My paintings are my solos which I try to make as funky as possible.
I knew by the early age of six that I was going to be an artist. During my teenage years, my love of childhood comics matured into full-scale murals. In 1988, I graduated from the School of the Art Institute of Chicago where I majored in painting and drawing. I then went on to create collaborative community murals with Chicago Public Art Group, helping to restore and beautify Chicago's urban landscape. Over the years, I have fabricated over 18 national public art monuments. Some major multimedia installations I have completed can be found at Indianapolis, Philadelphia & Denver International Airports, the Denver Performing Arts Complex, the Aurora Municipal Center in Colorado and the Tangipahoa African American Museum.
My paintings/assemblages have been commissioned for festival posters, children's books, album covers, t-shirts and can be found in numerous national and international private collections. I draw from my African American heritage and world mythologies to create my art, which I see as a positive contribution to human society.
Also, I am an Olorisa Sango (priest – a practitioner of traditional West African culture). I began formally studying Orisa/Vudu, Ifa and traditional African culture in 1989. I had the good fortune to train under and work with several enthusiastic awos, including my Ojugbona, the late great Oluwo Chief Adenibi Ajamu, and my Babalosa, the Alagba of Ile Ifa Jalumi, Agbongbon Sangodina Ifatunji and family. After receiving several smaller rites, rituals, and training during the 1990s, I was initiated to Sango at Ile Ifa Jalumi of the Oyotunji lineage in 2003. Currently, I am the Baale of Ile Eko Asa Yoruba in New Orleans. Ile Eko Asa is a training institute and repository of African traditional culture and spirituality based in New Orleans and serving the Deep South and beyond.
I have also recently taken two of my passions and turned them into entrepreneurial endeavors. Music has been a joy of mine for over 20 years, and I have developed this passion through dedication and hard work. Lately, I have been participating with other musicians in cultural events in New Orleans and beyond. Here are a couple of Youtube links where you will see me combine both my visual art and passion for music: https://youtu.be/XPoDWtnC0Nw and https://youtu.be/YlQfMG4WS4M
Furthermore, my love for martial arts that I trained in since I was a child and have nurtured throughout my life has developed into another avenue of cultural expression. I have developed a martial arts curriculum "Avalanche JA Combat Training Systems" that I offer periodically to a body of students.
You can visit my  gallery space at the Garden District Marketplace, 2855 Magazine Street, New Orleans, LA 70115.  Hours: Friday thru  Monday, 11am to 6pm .
https://www.facebook.com/Garden-District-Marketplace-1106559789507449/
https://instagram.com/marcusakinlana
https://www.akinlana.com
GENTILLY
meet the artists
We are a community of New Orleans visual artists. We are painters, sculptors, photographers & illustrators.
We are craftsmen and metal workers, printmakers and textile artists.
We make and create original & one of a kind artworks handcrafted right here in New Orleans.
Where Y'Art is a tool to discover, shop and experience the best of
New Orleans art online.
ART CONSULTING
Where Y'Art Works is an art consulting company and New Orleans artist collective that works with industry professionals to infuse art into the vision of your project. With our extensive network, technology and resources, Where Y'Art Works is a single point of contact for all of your art needs, delivered on time and in budget.
CREATORS OF ART
Where Y'Art is a curated community of New Orleans artists, craftsmen and designers seeking to connect with buyers and each other. At Where Y'Art, you'll have more sales opportunities and access to commercial opportunities to grow your creative business.
Apply now, or email us for more information: hello@whereyart.net
LOVERS OF ART
Where Y'Art curates an online gallery where you can meet over 100 New Orleans artists — from painters to sculptors, craftsmen and jewelry designers — discover their passions and learn their stories. It's a 24-hour meeting place where the artist is always present and the wall space knows no limits.
If you're in New Orleans, Louisiana, pay us a visit at the Where Y'Art Gallery, 1901 Royal Street 70116 in the historic Faubourg Marigny neighborhood or call 504 325-5672
Sign up here for updates: