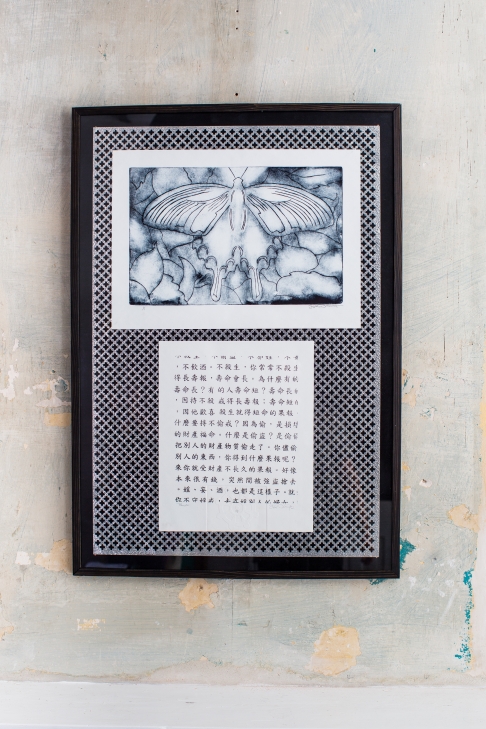 Meditation of the Butterfly
2014
"Meditation of the Butterfly" is a piece I put together from two different printmaking projects; a copper etching of a butterfly and a serigraph (aka screenprint) of the Five Precepts of Buddhism, printed in Chinese. The Precepts are a guide, much like the Ten Commandments in Christianity, to living an ethical and moral life. These include: (1) Not taking the life of anything living; (2) To refrain from stealing; (3) Abstain from sexual misconduct; (4) Refrain from untrue speech (lying); and (5) Avoid intoxication (losing mindfulness). An embossed symbol of the Wheel of Life is placed at the bottom of the print. The butterfly is a symbol of transformation, rebirth, and self-acceptance. I commissioned a friend of mine to make the frame. It is solid wood so it's a bit on the heavy side. The artwork is covered by glass, not acrylic. This piece would be EXTREMELY difficult to ship, both in weight and price, so I am not offering shipping. If you are out of town and insist on it being shipped, I can bring it to the shipper of your choosing and let them pack it for send off. You will need to contact me BEFORE purchasing in order to make this happen.
Copper Etching & Serigraph w/ blind embossing on 100% cotton rag paper (archival)
28" x 40"
Shipping cost: $0.00

My artistic journey has taken me from performing artist to visual artist in the most unlikely ways. I originally moved to New Orleans to get a degree in music. Unexpected circumstances led me in quite a different direction. After changing my major to graphic design, I signed up for an intro class in printmaking. It was a hands-on version of what I planned to do on a computer. As the art department put my chosen major on a short hiatus, I kept with printmaking and continued to learn new techniques. When the graphic design program returned, I had already gained such an appreciation and love for the hands on creative process and a certain affinity for the smell of an old-fashioned print shop, that I decided to complete my degree in printmaking. Graduation is a faint memory now, but I continue learning new things about my medium each day.
Much of my work is intuitive, so any particular piece can be emotionally-driven or meditative in concept.  I enjoy experimenting and combining mediums. I'm also known to obsess over certain imagery and create several versions of one thing.  Of course, this directly competes with my "printmaker mind" and the idea of exact multiples, but it is something I'm working on in my evolution as an artist.
BYWATER
meet the artists
We are a community of New Orleans visual artists. We are painters, sculptors, photographers & illustrators.
We are craftsmen and metal workers, printmakers and textile artists.
We make and create original & one of a kind artworks handcrafted right here in New Orleans.
Where Y'Art is a tool to discover, shop and experience the best of
New Orleans art online.
ART CONSULTING
Where Y'Art Works is an art consulting company and New Orleans artist collective that works with industry professionals to infuse art into the vision of your project. With our extensive network, technology and resources, Where Y'Art Works is a single point of contact for all of your art needs, delivered on time and in budget.
CREATORS OF ART
Where Y'Art is a curated community of New Orleans artists, craftsmen and designers seeking to connect with buyers and each other. At Where Y'Art, you'll have more sales opportunities and access to commercial opportunities to grow your creative business.
Apply now, or email us for more information: hello@whereyart.net
LOVERS OF ART
Where Y'Art curates an online gallery where you can meet over 100 New Orleans artists — from painters to sculptors, craftsmen and jewelry designers — discover their passions and learn their stories. It's a 24-hour meeting place where the artist is always present and the wall space knows no limits.
If you're in New Orleans, Louisiana, pay us a visit at the Where Y'Art Gallery, 1901 Royal Street 70116 in the historic Faubourg Marigny neighborhood or call 504 325-5672
Sign up here for updates: