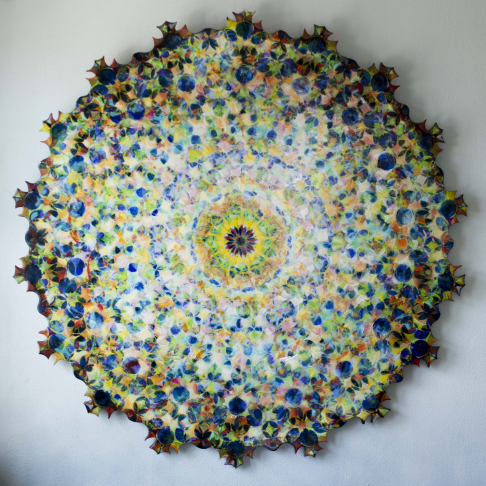 This piece is mostly composed of circles. A few years ago, I learned about geometric relationships in music and developed a way of visualizing them. I generated circles whose various sizes matched the wavelengths of musical notes. It was a simple way to understand the geometry of sound. Every doubling in diameter represents one octave decrease, which is a relationship of 1/2. As you move up or down a scale within an octave, the relationships between each note are mostly common fractions: 3/4, 2/3, 4/5, 3/5, 8/9. Our ears love those fractions. When I finished making my circles I arrayed and overlaid them in a pattern such that the regular rhythm of each note would shine through the rhythms of the others, and every so often, align, beginning the meta-pattern over again like at wallpaper seams. This, to me, was a visual kin to how in music, a chord is composed of three or four notes whose sonic geometry (wavelength/frequency) snaps together into a microscopic semi-regular rhythm, which we hear as harmony. I was curious to see if I could generate visual chords using the same relationships. While my wife and I were on our honeymoon in Aruba in 2017, I spent my free time creating these mandalas on my computer. I collaged images in Photoshop and then turned them into kaleidoscopes with varying number of facets. I overlayed these images, configuring differing geometries to create semi-regular circular rhythms. For instance, I'd overlay an image tesselated pentagonally with seven- and eight-sided versions. With this piece, I used my music-circles as the basis of this tesselation, doubling-down in my pursuit to visually express the joy of music and its undergirding geometry. I worked on this piece for awhile, but every iteration seemed sterile somehow. So I layered in one other element, not consciously visible but responsible for much of the coloring and light. It's from a photo of the hora dance at my wedding. The connection, whether subconscious or just lucky in retrospect, is that hora means "circle dance" – and that's what it is.
Mixed media on wood
60" x 60"
Shipping cost: $500.00

I am a New Orleans and Minneapolis-based artist from Lafayette, LA. I studied art at Brown and RISD, graduating from Brown in  2013. I moved to New Orleans after graduation, where I practiced art alongside a career in graphic design, community engagement, and architectural design. I've shown my in galleries in south Louisiana and Mississippi. Currently, I am pursuing an M.Arch and an MLA degree at the University of Minnesota in Minneapolis. My art work is inspired by the patterns in nature and the manner in which our minds filter, remember, transform, and represent our experiences.
UPTOWN
meet the artists
We are a community of New Orleans visual artists. We are painters, sculptors, photographers & illustrators.
We are craftsmen and metal workers, printmakers and textile artists.
We make and create original & one of a kind artworks handcrafted right here in New Orleans.
Where Y'Art is a tool to discover, shop and experience the best of
New Orleans art online.
ART CONSULTING
Where Y'Art Works is an art consulting company and New Orleans artist collective that works with industry professionals to infuse art into the vision of your project. With our extensive network, technology and resources, Where Y'Art Works is a single point of contact for all of your art needs, delivered on time and in budget.
CREATORS OF ART
Where Y'Art is a curated community of New Orleans artists, craftsmen and designers seeking to connect with buyers and each other. At Where Y'Art, you'll have more sales opportunities and access to commercial opportunities to grow your creative business.
Apply now, or email us for more information: hello@whereyart.net
LOVERS OF ART
Where Y'Art curates an online gallery where you can meet over 100 New Orleans artists — from painters to sculptors, craftsmen and jewelry designers — discover their passions and learn their stories. It's a 24-hour meeting place where the artist is always present and the wall space knows no limits.
If you're in New Orleans, Louisiana, pay us a visit at the Where Y'Art Gallery, 1901 Royal Street 70116 in the historic Faubourg Marigny neighborhood or call 504 325-5672
Sign up here for updates: