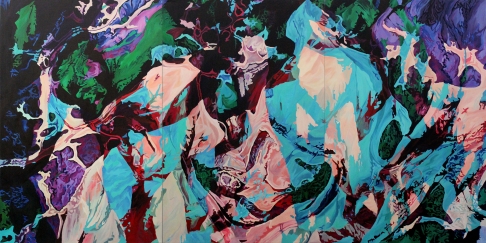 In this final piece of my series, there is a pursuit of humanity in the shapes that unfurl across the Earth's surface. A shadowed blue figure stands and in the foreground it's fractured and fleshy counterpart. By conducting shapes and colors provided by aerial imagery I was able to compose a piece that is a reflection of a state of inner turmoil. Like the Earth's surface, one will grow, be broken apart, sink, and rise. Our inner terrain like the grooves of a riverbed are riddled with scar tissue. The piece hangs all together at 6" x 12".
Acrylic and Gel Medium on Canvas
12" x 18" (3 panels of 4" x 6")
Shipping cost: $500.00

Take a look at a tree with its full body and ascending branches. Feel the grooves in the bark and study the texture. Now fly above the land and look out to see a sprawling forest and the complexities of its surrounding terrain. You will start to see a communion between the Earth and all its formations. I am inspired by this relationship as well as the colors, textures and patterns of the natural world. Through abstraction (form, line, and color) I like to transform these elements into emotional landscapes. I am interested in the perception of space and the interchange between positive and negative. Through observation I like to understand a landscape and the complexity of its transformation through natural or man-made processes. Most recently I use aerial photography that I layer and manipulate in Photoshop to create designs that I then paint. My work utilizes technology, but is balanced with the handmade.
I have been developing and evolving a personal aesthetic in my artistic endeavors since childhood. Growing up outdoors in Northern California, I began engaging in color and texture through pastels, drawings, and paintings. I later honed my skills under Kathy Reed at the Lafayette Parish High School Arts Academy in Louisiana, where I learned a solid foundation in design principles and techniques. This heavily influenced my decision to attend Pratt Institute in New York City. After leaving the Institute, I moved back to Louisiana to begin my artistic pursuits. I now live in the Marigny neighborhood of New Orleans. I spend most of my time painting in my studio and moving through the city, embracing the culture.
Instagram | @anneblenker
MARIGNY
YOU MAY ALSO LIKE
meet the artists
We are a community of New Orleans visual artists. We are painters, sculptors, fashion & jewelry designers.
We are craftsman and metal workers, illustrators and printmakers.
We make and create original & one of a kind artworks handcrafted right here in New Orleans.
Where Y'Art is a tool to discover, shop and experience the best of
New Orleans art online and in person.
CREATORS OF ART
Where Y'Art is a curated community of New Orleans artists, craftsmen and designers seeking to connect with buyers and each other. At Where Y'Art, you'll have more sales opportunities and access to commercial opportunities to grow your creative business.
Email us for more information: hello@whereyart.net
LOVERS OF ART
Where Y'Art curates an online gallery where you can meet over 100 New Orleans artists — from painters to sculptors, craftsmen and jewelry designers — discover their passions and learn their stories. It's a 24-hour meeting place where the artist is always present and the wall space knows no limits.
If you're in New Orleans, pay us a visit, 1901 Royal Street in the historic Faubourg Marigny neighborhood.
Sign up here for updates: