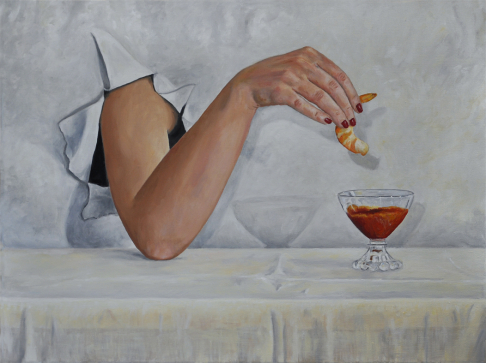 Visionary Design LLC
A Shrimp n' Hand
This is a fun & quirky trompe l'oeil painting.
Oil on Canvas
18" x 24"
Shipping cost: $40.00

I grew up in New Orleans and was intrigued by the charm of the old city and fascinated by the style and character of the antiques in my dad's and grandfather's antique gallery. That is where my love for art grew.
I began painting around the age of three. Although I don't remember the story, my Mom recalls that the first time someone gave me some money, immediately I said, "Mommy, I really need to go buy some paint and brushes." After years of practicing, I later attended the New Orleans Academy of Fine Arts.
After marrying and being blessed with children, we moved to Dallas, Texas. There I worked as a graphic artist and book illustrator. During this period of time in my life, I also found my biological family and found out that my birth mother had also been an artist who worked at Jackson Square. Life can be ever so interesting.
Art has had an impact on my life, I have constantly found myself setting newer and higher goals. Through this glorious spiral upward, I realized that the more I learn, the more I want to learn, grow, and discover. Art has helped in developing my character in many ways, with it I have learned to be patient, to be tenacious, and to be satisfied with obtaining goals I never thought I could reach.
I still sometimes do some book illustrating, create gallery paintings and commission works/portraits for people.
If you would like to discuss a commission project or portrait, please private message me.
YOU MAY ALSO LIKE
meet the artists
We are a community of New Orleans visual artists. We are painters, sculptors, fashion & jewelry designers.
We are craftsman and metal workers, illustrators and printmakers.
We make and create original & one of a kind artworks handcrafted right here in New Orleans.
Where Y'Art is a tool to discover, shop and experience the best of
New Orleans art online and in person.
CREATORS OF ART
Where Y'Art is a curated community of New Orleans artists, craftsmen and designers seeking to connect with buyers and each other. At Where Y'Art, you'll have more sales opportunities and access to commercial opportunities to grow your creative business.
Email us for more information: hello@whereyart.net
LOVERS OF ART
Where Y'Art curates an online gallery where you can meet over 100 New Orleans artists — from painters to sculptors, craftsmen and jewelry designers — discover their passions and learn their stories. It's a 24-hour meeting place where the artist is always present and the wall space knows no limits.
If you're in New Orleans, pay us a visit, 1901 Royal Street in the historic Faubourg Marigny neighborhood.
Sign up here for updates: