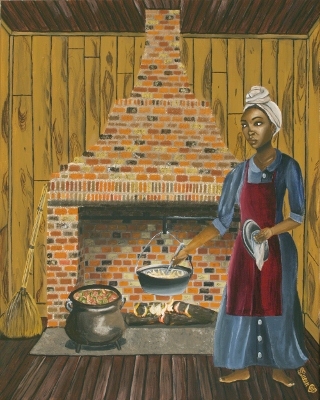 Queen Hope Poetic Art
Slave Cooking Gumbo
2013
Excerpt from poem: Daughters "At Congo square I meet an indigenous African of America Our chemistry joined us as 1 from 2 creating 3 our daughter he took me to escape to birds mound where the pale ones were banned, but I was identified by my fleur de lis brand in front of my eyes my man was slaughtered since then I raised my baby in a slave quarter..." This is the first painting to a series of an enslaved family. The excerpt is the first part of the first poem related to this series.
Original Oil on Canvas Limited Prints Available Only
20" x 16"
Shipping cost: $25.00

I was born and raised in downtown New Orleans into a culture of cooking, music, dance, art, and crafts. My grandfather's hobby was visual art, my dad is a chef, and my grandmother sewed clothing; I freelanced all these talents. As a child, my father registered my siblings and me in dance and music classes. I attended McDonogh 35 Senior High, but due to Hurricane Katrina, I graduated from Westside High in Houston, Texas. After graduating high school, I moved back home and worked full time while attending Delgado, then William Carey for college prerequisites.
I later attended Dillard University School of Nursing in 2012, and I graduated in May 2015 with a Bachelor of Science in Nursing. I am currently a Registered Nurse aspiring to become a Nurse Midwife. I also completed Doula training with Sista Midwife Productions in November 2014 and became a part of Birthmark Doula Collective shortly after.
People often ask, "What's your focus?" This is an awkward conversation in one sitting. My focus is my belief. My art tells a story in the form of poetry. As an artist, I feel free to express my vision through creations not limited to sewing, painting, drawing, or craft. It all depends on the message I am sending. I dream of a world where we can live holistically in nature, health, and beauty. Originality and authenticity of species and spirit is my highest value. I am now working my way back into the art world to continue sharing this vision with the world.
meet the artists
We are a community of New Orleans visual artists. We are painters, sculptors, photographers & illustrators.
We are craftsmen and metal workers, printmakers and textile artists.
We make and create original & one of a kind artworks handcrafted right here in New Orleans.
Where Y'Art is a tool to discover, shop and experience the best of
New Orleans art online and in person.
CREATORS OF ART
Where Y'Art is a curated community of New Orleans artists, craftsmen and designers seeking to connect with buyers and each other. At Where Y'Art, you'll have more sales opportunities and access to commercial opportunities to grow your creative business.
Email us for more information: hello@whereyart.net
LOVERS OF ART
Where Y'Art curates an online gallery where you can meet over 100 New Orleans artists — from painters to sculptors, craftsmen and jewelry designers — discover their passions and learn their stories. It's a 24-hour meeting place where the artist is always present and the wall space knows no limits.
If you're in New Orleans, pay us a visit, 1901 Royal Street in the historic Faubourg Marigny neighborhood.
Sign up here for updates: